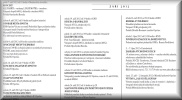 Events in October 2012

FAMILY CENTER THE SUN (Rodinné centrum Sluníčko)
Meetings for mothers with children
Tuesdays, 9.30 - 11.30 AM in Sokol building (at Kupkovo náměstí)



With a Computer at Every Age (S počítačem v každém věku)
Education of basic computer skills for elderly, 10 lessons
Wednesdays (October - December), 2.15 - 15 AM in School building (Nádražní street, by the Post office)


45th Falconers' meeting
Organized by Czech Falconry Club. Over 100 falconers: besides Czech also from Slovakia, Poland, Austria, Germany, the Netherlands, Belgium, and Great Britain. www.sokolnictvi.net, administrative details
October 11-13 (Thursday - Saturday) in surrounding forests
Every day at 7 PM festal closure at Opočno chateau court
Saturday at 10 AM public display of falconry hunting near Vodětín
... more

Meeting With Regional Writers (Setkání s regionálními spisovateli)
October 2 (Tuesday), 6 PM, Opočno town library, entry free





Emblems on the Post office building (O znacích na domě pošty II) - presentation


RNDr. Renata Pavlíčková


October 3 (Wednesday), 6.30 PM, Kodymův národní dům, entry free
Meeting with Heda Mládková (Setkání s Hedou Mládkovou)


Heda Mládková, Václav Moravec


October 18 (Thursday), 7 PM, Opočno town library, entry free but ticket reservation required

Israel - Land of Many Faces (Izrael - země mnoha tváří) - presentation


RNDr. Petr Rybář


October 16 (Wednesday), 6.30 PM, Kodymův národní dům, entry free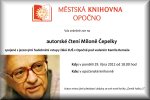 Miloň Čepelka Reading His Texts (Autorské čtení Miloně Čepelky) accompanied by jazz music
Event to commemorate 110th Opočno Library anniversary


Miloň Čepelka, School of Arts students, director Kamil Remeš


October 29 (Monday), 6 PM, Opočno town library, entry free



FISHING OUT POND BROUMAR (VÝLOV BROUMARU)
Selling fish fresh and smoked. Refreshment.
Prepared by Kolowratské rybářství
October 27 - 28 (Saturday, Sunday), 8 AM - 4 PM, pond Broumar

Concerts

V. L. VĚK INTERNATIONAL MUSIC FESTIVAL (MEZINÁRODNÍ FESTIVAL F. L. VĚKA)


Ludmila Peterková - clarinet, Bennewitz Quartet


October 7 (Sunday), 4 PM, Kodymův národní dům

SPIRITUAL MUSIC CONCERT (KONCERT DUCHOVNÍ HUDBY)


Polyfonní sdružení Nové Město nad Metují




Antonín Rejcha: Te Deum laudamus


October 14 (Sunday), 4 PM, Holy Trinity Church at Trčkovo Square

Theatre plays
A KOUKEJ VRÁTIT TO PYŽAMO! - comedy


F. A. Šubert Dobruška: F. Veverka, J. Honěk, L. Řehák, J. Macháček, T. Štěpánová; director Jiří Holý


October 26 (Friday), 7.30 PM in Kodymův národní dům, entry 90 Kč
Exhibitons
Garden- and pot-plants, exotic plants - tropical and subtropical, bonsai
Garden Center Na Štefance (behind Hotel Praha)
Open daily 10 AM - 5 PM

Sports
Dance
Evenings Illuminated with Candles
Fridays from 8 PM in Hotel Holub

Dancing lessons for beginners
Saturdays from 7 PM in Kodymův národní dům




Off-road rides in the amphibious armoured fighting vehicle called BVP.
See start of the ride on YouTube. Access to the brickfield is marked from the road 298 from Opočno to Dobruška.
Operating on weekends from May to October from 9 AM to 5 PM.

Cinema
A (A) -

October ? (Sunday) ? PM, entry ?