Events in June 2012

CHURCHES NIGHT (NOC KOSTELŮ)



Church guides; Opočno School of Arts musicians; Irena Pavlíčková - organ




Church guided tours, musical events


June 1 (Friday) 8 PM - 11 PM, Holy Trinity Church at Trčkovo Square




CHILDREN DAY AND OPENING SWIMMING POOLS (DĚTSKÝ DEN A ZAHÁJENÍ PROVOZU KOUPALIŠTĚ)
Celebrating 44th anniversary of swimming pools in Opočno


Games, merry-go-round, music, refreshment, regional tourist information, ...


June 3 (Sunday) at 1 PM near BROUMAR



Dance
DANCE COURSES FOR ADVANCED (TANEČNÍ KURSY PRO POKROČILÉ) - Fridays, 7.30 PM, Kodymův národní dům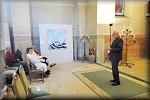 Concerts
PAVEL SVOBODA PLAYS BACH - organ concert







Pavel Svoboda - organ



June 15 (Friday), 7.30 PM, Marian Church, 60(40) Kč
SOA CONCERT (KONCERT ZUŠ) - Opočno School of Arts
June 1? (Tuesday) ? PM, Kodymův národní dům, ? Kč

FINAL CONCERT (ZÁVĚREČNÝ KONCERT) - Opočno School of Arts
June 2? (Tuesday), ? PM, Marian Church, entry voluntary


Exhibitons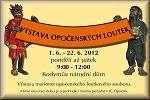 Sports
6. CHATEAU CUP (ZÁMECKÝ POHÁR) fishing competition
Prepared by Opočno Fishermen Group
June 9 (Saturday), adults 7am – 2:30pm, children 2:30pm - 7:30pm by Opočno chateau ponds, entry voluntary


YOUNG FIREBRIGADES CUP (PUTOVNÍ POHÁR HASIČSKÉ MLÁDEŽE)
June ?? (Sunday) at 9 AM at the football pitch

OPOČNO TRIATHLON (OPOČENSKÝ TRIATLON) - Wednesday Cup
Organized by Dobruška TriClub, 0.5-26-5 km
Rules, photos
June 29 (Wednesday), start at 5 PM (presentation 4 PM), by Broumar, start fee 50(20) Kč

Cinema
DEATH OF THE TALENTED SHOEMAKER (SMRT TALENTOVANÉHO ŠEVCE) - story by Václav Erben, director Jan Schmidt -
The film was created 30 years ago in Opočno Chateau area.
Presented by

director Jan Schmidt


June 9 (Saturday) at 6 PM in former Chateau vine bar at Trčkovo square, entry ?


Theatre plays


Off-road rides in the amphibious armoured fighting vehicle called BVP.
Access to the brickfield is marked from the road 298 from Opočno to Dobruška.
Operating on weekends from May to October from 9 AM to 5 PM.