!body text="#000000" bgcolor="#FFFFFF" link="#FF00FF" vlink="#6633CC" background="../pictures/back.gif" topmargin="0" leftmargin="10" face="Times New Roman">
Events in November 2011

Computer Skills for Seniors (S počítačem v každém věku)
Basic training lessons for PC senior users
From November 2, Wednesdays 2 PM, school building No. 313 (by the post office). Seats number is limited to 15. Access free.


FISHING OUT POND BROUMAR (VÝLOV BROUMARU)
Selling Fish fresh and smoked. Refreshment. November 4 - 6 (Friday-Sunday), pond Broumar
BABKA ŤAPKA na kraji světa – aneb NOVÝ ZÉLAND očima české babičky
The autor's reading by Anna Johana Nyklová.
December 15 (Tuesday), 5.30 PM in Opočno town library

Concerts

VLASTA - Advent concert


VLASTA women choir from Dobruška; director Dana Friedová; organ Irena Pavlíčková; solo Zdeněk Svědík


November 27 (Sunday) at 4 PM in Marian Church. Entry voluntary.

Theatre plays
in Kodymův národní dům, ticket reservation: Elektro Zlatka (tel. 494 667 651)
Cinema
Burma VJ (Barmský VJ) - Burma anti-government demonstrations 2007.
Film festival One World
November 13 (Sunday) 7 PM, Dobrušská 723 (modlitebna České církve evangelické), entry free

Exhibitons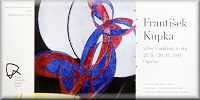 František Kupka: F. KUPKA BACK HOME (NÁVRAT F. KUPKY DOMŮ)
September 23 – Dec 20 in Marian Church






Bobbin Lace (Paličkované krajky)
November 28 – Dec 4, weekdays 2PM-5PM, weekend 10AM-5PM in Sokolský dům at Kupka Square, entry voluntary

Sports
Dance
Evenings Illuminated with Candles
Fridays from 8 PM in Hotel Holub

Dancing lessons for beginners
Saturdays from 7 PM in Kodymův národní dům