Events in June 2009

Opočno sightseeing guided tour in Czech (Vycházky historií Opočna) - guides Dana Marková and Václav Rathouský
All participants are welcome to add their piece of historical knowledge of each visited place.
Saturdays or Sundays at 5 PM (if no rain condition), for the meeting point (every week different) ask zusop

wo.cz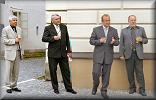 KUPKOVO SQUARE NEW PAVEMENT OPENING CEREMONY (SLAVNOST K NOVÉMU DLÁŽDĚNÍ KUPOVA NÁMĚSTÍ)


Delegations of all participating institutions


June 6 (Saturday) at 10.30 AM in front of the Kodymův národní dům






CHILDREN DAY AND OPENING SWIMMING POOLS
(DĚTSKÝ DEN A ZAHÁJENÍ PROVOZU KOUPALIŠTĚ)
Games, merry-go-round, aquazorbing, music, refreshment, regional tourist information, ...
Celebrating 41st anniversary of swimming pools in Opočno
June 6 (Saturday) at 2 PM near BROUMAR







CZECH-MORAVIAN HUNTSMEN UNION ART AUTHORS CLUB MEETING (SETKÁNÍ ČLENŮ KLUBU AUTORŮ ČESKOMORAVSKÉ MYSLIVECKÉ JEDNOTY)
Writers, journalists, painters, photographers, dramatists, ...
June 6. - 7. (Saturday - Sunday) in Hotel Holub
June 6 (Saturday) at 7 PM authors' public presentation, chat show, art sale, autograph collecting, ...






4th AGILITY OPEN CHAMPIONSHIP (4 . OTEVŘENÝ ŠAMPIONÁT V AGILITY)
Organized by Opočno Dog Keepers Association (Základní kynologická organizace Opočno)
50+ dogs took part on the the championship. Jury chief: Jaroslava Podmolová. June 7 (Sunday) from 9 AM (all day long) in Lišťovina










DRUM MAJORETTES FESTIVAL (PŘEHLÍDKA MAŽORETEK) - 1. ročník nesoutěžních vystoupení mažoretek.
10.30 AM Parade; 11 AM Opening Ceremony; 12 AM Brass Band Opočenka Concert; 1 PM Majorette Ensembles Presentations
June 13 (Saturday) at Kupkovo Square (main square)










CLASSICAL AMERICAN CARS MEETING (SRAZ KLASICKÝCH AMERICKÝCH AUT)
June 20 (Saturday) from 4 PM at Kupkovo Square (main square)



Sports




YOUNG FIREBRIGADES CUP (PUTOVNÍ POHÁR HASIČSKÉ MLÁDEŽE)
June 14 (Sunday) at 9 AM at the foot pitch




BALL SEPTATHLON (MÍČOVÝ SEDMIBOJ) of two member teams age over 15
table tennis, footballtennis, tennis, voleyball, (football- handball- basketball-) - penalties
June 20 (Saturday), start at 9 AM (applications from 8 AM), roofed stadium

OPOČNO TRIATHLON (OPOČENSKÝ TRIATLON) - Wednesday Cup
Organized by Dobruška TriClub, 0.7-26-3.5 km
Results, more photos
June 24 (Wednesday), start at 4.00 PM, by Broumar

Opočno children chess championship (Přebor opočenských škol v šachu)
Boys: 1. Jakub Ulman – 2. Antonín Suchánek – 3. Luboš Váradi
Girls: 1. Kristýna Brichová – 2. Lenka Váradiová - 3. Helena Kracíková – 4. Kateřina Smolová
June 23 (Tuesday)

Concerts
Theatre plays
Exhibitons





Opočno School builidng celebrates 145 years (145 let budovy ZŠ) - exibitions
June 12 - 14 (Friday - Sunday) in No. 4. at Trčkovo Square, entry free.
June 12 - 26 (Friday - Friday) in Information Center at Kupkovo Square, entry free.

Garden plants exhibition Garden- and pot-plants, exotic plants - tropical and subtropical, bonsai
Garden Center Na Štefance (behind Hotel Praha)
Open daily 10 AM - 5 PM



Off-road rides in the amphibious armoured fighting vehicle called BVP.
Access to the brickfield is marked from the road 298 from Opočno to Dobruška.
Operating on weekends from May to October from 9 AM to 5 PM. NOT operating August 22-23.

---