!body text="#000000" bgcolor="#FFFFFF" link="#FF00FF" vlink="#6633CC" background="../pictures/back.gif" topmargin="0" leftmargin="10" face="Times New Roman">
Events in June 2005






Opočno triathlon - Wednesdays Cup, organized by Dobruška TriClub
Triathlon race
June 22 (Wednesday), start at 5 PM, Broumar, 0.6-28-3.5 km

Miroslav Klika Memorial - Football Tournament

June ?? (Sunday) at "TJ Spartak" playgrounds
10 football teams (Opočno, Voděrady, Přepychy, Rychnov n. Kn., Vamberk, Solnice, Doudleby n. O., ...) at the age cathegory 1996 - 1998.
9 AM - ceremonial opening, basic group
1 PM - ceremonial enouncement of results, awards
Exhibitons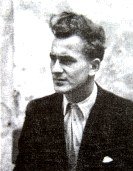 Students of School of Arts exhibit their works
in the Schoool of Arts Opočno (open on school days) and in Kodymův národní dům.

Opočno Through Lenses of Zdeněk Kricnar - PHOTO EXHIBITION
April 22 - June 5, Tourist Information Center




Vladimír Plocek
32 paintings
May 27 - June 12, 1 - 4 PM in the Marian Church







Bedřiška Uždilová: On the Border of Reality - PAINTINGS EXHIBITION
Paintings from 1990 - 2005
June 19 - July 10, Castle Villa, 20 Kč

Concerts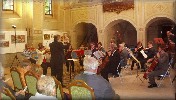 JAROSLAV KOCIÁN CHAMBER ORCHESTRA from Ústí nad Orlicí


Director Mgr. Bohuslav Mimra, solists: Miluše Mimrová - cemballo, Miluše Barvínkováa and Jitka Nováková - violins, Petr Poslušný - violoncello


Henry Purcell - The Gordic Knot
Johan Sebastian Bach - Brandenburger Concer in G major, No. 3
Wolfgang Amadeus Mozar - Divertimento in D major, KV 136
Georg Friedrich Händel - Concerto grosso in G major, No. 1
Wolfgang Amadeus Mozart - Serenade in G major, KV 525 - A Little Night Music


June 10 (Friday) at 7:30 PM in the Marian Church, 50(30) Kč.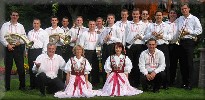 EUROPEAN MUSIC DAYS (following June 18 in Dobruška from 16.00)

Several Czech and foreign orchestras (

Opočenka

-CZ, Border Guard Band-Poland(Klodzko),

Valanka

-CZ, Wörgl Town Brass Band-Austria(Tyrolia),

Njorek

-CZ(Moravia),

Stříbrňanka

-CZ(Moravia)) and Opočno Drum Majorettes

12.30 Brass bands and Drum Majorettes parade from OU and SOU Opočno to the main square (Kupkovo náměstí)
13.00 Ceremonial opening - Kupkovo náměstí
13.30 Brass bands concert - Castle garden near Summer villa, entry 80/40 Kč


June 19 (Sunday)

OPOČENKA brass music
Guests: Opočno Drum Majorettes.
June ?? (Saturday), 7 PM, Castle yard, 70 Kč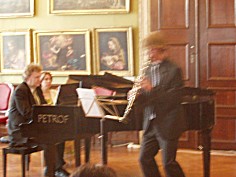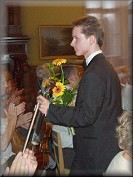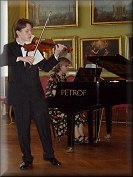 ADAM NOVÁK - violin concert

with Tomáš Staněk - clarinet and Václav Vait - piano

Johann Sebastian Bach - Sonata No. 2 in a-minor for Violin (BVW 1003)
Johannnes Brahms - Sonat in Es-major for Clarinet and Piano Opus 120 No. 2
Leoš Janáček - Sonata fot Violin and Piano
Miloslav Ištvan - Sonata for Clarinet and Piano
Nicolo Paganini - Nel cor piu non mi sento (for violin)


June 24 (Friday) at 7:30 PM in Castle Image Gallery, entry 60(30) Kč.

Summer Music Courses (Letní interpretační kurzy) Opočno 2005
June 30 (Thursday) to July 10 (Sunday) Opočenská beseda.
Theatre plays
Garden- and pot-plants, exotic plants - tropical and subtropical, bonsai
Garden Center Na Štefance (behind Hotel Praha)
Open daily 10 AM - 5 PM