!body text="#000000" bgcolor="#FFFFFF" link="#FF00FF" vlink="#6633CC" background="../pictures/back.gif" topmargin="0" leftmargin="10" face="Times New Roman">
Events in May 2003
Mothers' Day
May 06 (Tuesday) at 6 PM in Kodymův národní dům. Prepared by Schoool of Arts Opočno. Entry fee voluntary.

Cafeteria for Seniors - Lucie
In the Senior Citizens' Nursing Home (Access not limited by age!), Tuesdays at 4 PM
May 6, Oheň a led (Fire nd Ice) Presentation of flambing meals and show of mixed beverages by students and teachers of SOU and OU Opočno
May 13, Procvičme si tělo (Let's Exercise our Bodies) Practical recommendations how to exercise at home, presented by rehabitalization specialist MUDr. Markéta Kopecká from hospital Opočenská nemocniční a.s.
May 20, at 3 and at 6 PM Celostní medicína (Holistic Medicine) Explains MUDr. Fabík from Brno. Natural healing, nutrition, herbal medicine,...
May 27, S kytarou na cestách (Travelling with a Guitarr) Michal Bikár from Rychnov nad Kněžnou plays and sings Spanish, Gypsy, Czech and his own compositions. Experiences nad impressions from his travels.
Exhibitons
Students of School of Arts exhibit their works
May 7 (Wednesday) to May 18 (Sunday) in the Castle Villa, open Fridays - Sundays from 1 to 4 PM.
Concerts
Schoool of Arts Opočno - in Castle Villa


May 7 (Wednesday) at 5 PM – School of Arts exhibition opening concert.
May 13 (Tuesday) at 5 PM - Concert of all grades' students.
May 16 (Friday) at 6 PM – Concert of school-leavers.

Presentation of Department Of Dancing of the Schoool of Arts Opočno
May 22 (Thursday)at 6 PM in Kodymův národní dům

Lhotecké kvarteto - event of Musical Festival CAMERATA NOVA NÁCHOD
May 30 (Friday) at 7:30 in the Castle Image Gallery, 50 Kč.
Jan Hučín, Marcel Svoboda (violins), Martin Prokop (viola), Jitka Prokopová (violoncello)
Ludwig van Beethoven: String Quartet in c-minor opus 18. no. 4
Leoš Janáček: Po zarostlém chodníčku (selection)
Antonín Dvořák: String Quartet in G-major opus 106.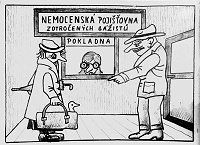 Theatre plays
U pokladny stál - satiric comedy by Jiří Verner.
Theatre ensemble Kodym Opočno – director Tomáš Fábera.
May 29 (Thursday) - premiere, and May 31 (Saturday). Both days at 7:30 PM, Kodymův národní dům
Ticket reservation: Elektro Zlatka (tel. 494 667 651), entry 50 Kč.

Cinema
Kodymův národní dům, Tuesdays

May 20 (Tuesday), 5? PM, Harry Potter a tajemná komnata (Harry Potter and the Chamber of Secrets), fantasy, USA, 30 Kč, 161', Czech dubbing


---