!body text="#000000" bgcolor="#FFFFFF" link="#FF00FF" vlink="#6633CC" background="../pictures/back.gif" topmargin="0" leftmargin="10" face="Times New Roman">
Events in July 2003

Cafeteria for Seniors - Lucie
In the Senior Citizens' Nursing Home (Access not limited by age!), Tuesdays at 4 PM
July 1, Singapurský tygr (The Tiger of Singapore) - Life in one country in Asia. Presented by Jitka Kvasňová.
July 15, Pleť v létě (The Skin in Summer) - Special care about the skin in hot summer days. Presented by Ilona Svobodová.
Exhibitons
Okna (Windows) - Jana Heřmanová






July 4 - 27 in Castle Villa, open 11 AM - 4 PM, (Saturdays from 1 PM), closed on Mondays. Entry 5/10 Kč.
Ceremonial opening July 4 at 5 PM.


Iron Man
Triathlon race
July 2 (Wednesday), start at 5 PM, Broumar

Concerts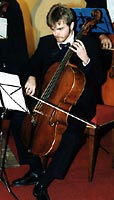 MUSICA FLOREA - Homage to Jan Křtitel Vaňhal 2003
Italian and French chamber music of 17 and 18 centuries, original instrumens, original sound.
Marek Štryncl(1974) - baroqe violoncello, Dagmar Valentová - baroqe violin, Přemysl Vacek - cemballo
Tarquinio MERULA (1595 - 1665) - Canzona La Capellina á 2
Carlo FARINA (asi 1604 - 1639) - Sonata la Farina
Giovanni LEGRENZI (1626 - 1690) - Sonata la Crispa á 2
Domenico GABRIELLI (1659 - 1690) - Sonata Grave, Allegro, Largo, Presto
Arcangelo CORELLI (1653 - 1713) - Sonata IX. Preludio-Largo, Giga-Allegro, Tempo di Gavotta-Allegro
Alessandro STRADELLA (1645 - 1681) - Sinfonia á 2
Jean BARRIÉRE (1705 - 1747) - Sonata VI. Adagio, Allegro, Largetto, Giga-Allegro
Francois COUPERIN (1668 - 1733) - Concert III. Prélude, Allemande, Courante, Sarabande, Gavotte, Muzette, Chaconne
July 11 (Friday), 7:30 PM, Marian Church

EVA BRANDA - piano recital
Eva Branda was born in Broumov (Czech) in 1983. In 1985 the family moved to Canada, where she has been studying piano since the age of five.
Johann Sebastian BACH (1865 - 1750) - English Suite No.2 in A minor Prelude, Sarabande, Gigue
Fryderyk CHOPIN (1810 - 1849) - Etude in C sharp minor Op.25 No.7, Etude in A flat major Op.25 No.1
Maurice RAVEL (1875 - 1937) - Sonatine Modéré, Mouvement de menuet, Animé
Wolfgang Amadeus MOZART (1756 - 1791) - Sonata in D major K.284 Allegro, Andante, Theme and Variations
Johannes BRAHMS (1833 - 1897) - Rhapsody Op.79 No.2
Claude DEBUSSY (1862 - 1918) - Image No.1, Reflet Dans L'Eau
Sergei S. Prokofieff (1891 - 1953) - Sonata Op.28 No.3 Allegro tempostoso, Moderato
July 27 (Sunday), 7:30 PM, Castle Image Gallery
Theatre plays
Kodymův národní dům

Cinema
Kodymův národní dům

Dance balls