Events in June 2011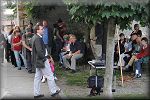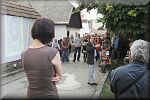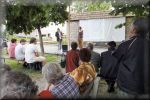 VI. Meeting by Baštecká Gate (VI. Setkání před Bašteckou bránou)
Friedrich BÜTHNER - scientist from Opočno


Prof. PhDr. Miloš Řezník, PhD. and Astronomic Society Hradec Králové (Martin Cholasta); introduction by Monika Hojná


Lecture on Friedrich BÜTHNER and presentation of 17th century astronomy
June 4 (Saturday) at 8 PM near house no. 55






CHILDREN DAY AND OPENING SWIMMING POOLS (DĚTSKÝ DEN A ZAHÁJENÍ PROVOZU KOUPALIŠTĚ)
Celebrating 43rd anniversary of swimming pools in Opočno


Games, merry-go-round, music, refreshment, regional tourist information, ...


June 4 (Saturday) at 2 PM near BROUMAR



Dance
DANCE COURSES FOR ADVANCED (TANEČNÍ KURSY PRO POKROČILÉ) - Fridays, 7.30 PM, Kodymův národní dům

Concerts

CONCERTO GLACENSIS - event of Music Festival Camerata Nova Náchod


Director: Katarzyna Maka


Mixed choir: J. E. Baldami - Angele Dei; F. Poulenc - O Magnum Misterium; C. Monteverdi - Cantate Domino; M. Zieleňski - Haec Dies; T. L. da Viktoria - Ave Maria; J. Peni - Adoramus te Christe; Anonymus - Jako růže; Dominikani - Chvála pokrmu; Wacslav z Szamotul - Již se smráká
Women choir: F Poulenc - Ave verum Corpus; 3. M. Sjoberg - Ave Maria; Wasowski, Przybora - Veselý deštík K. Todorov - Svatba
Mixed choir: P. Attagnat - Tourdion; Wasowski, Przybora - Soumrak; Greg Gilplin - Ding a ding a ding; M. Pettel - Noc El Vito
June 1 (Wednesday), 7 PM, Marian Church, 60 Kč










SCHOOL LEAVERS' CONCERT (ABSOLVENTSKÝ KONCERT) - Opočno School of Arts
June 7 (Tuesday), 7 PM, Marian Church, entry voluntary





MAGISTRI - flute ensemble
Mgr. Becková Dagmar (ZUŠ B. Jeremiáše, České Budějovice), Čechová Krečmerová Jarmila, dipl. um. (ZUŠ Opočno), Bc. Friedová Hana (ZUŠ Jablonec nad Jizerou), Mgr. Holancová Štěpánka (ZUŠ Dobruška), Ing. Holubová Jitka, Ph.D. (ZUŠ Praha 7), Janečka Vít (ZUŠ Olomouc "Žerotín"), Krečmerová Gabriela (ZUŠ Police nad Metují), Latináková lva (ZUŠ Praha 5 - Zbraslav), Sedláčková Veronika (ZUŠ Kralupy nad Vltavou), BcA. Svitáková Eva (ZUŠ Praha), Szelke Ivona (ZUŠ Úpice), Špringlová Lenka, DiS. (ZUŠ Frýdlant). Director: MgA. Bílková Tůmová Magdalena (ZUŠ Praha 7)


ANONYM - Téma a variace ZELENÉ RUKÁVY 16. století Antonín Rejcha (1770 - 1836) - SINFONICO Menuet; J. S. Bach (1685 - 1750) - BRANIBORSKY KONCERT Nr. 6, BWV 1051 Allegro; J. B. LOEILLET (1688 - 1750) - QUINTETT h moll Largo, Allegro; J. HAYDN (1732 — 1809) - ANDANTE; James RAE (1957) - JAZZDUETS Pozdni dovolené, Swingujici sestry; Michel MAGNE (1930 — 1984) - ANGELIKA (ústřední melodie filmu, arr. 0. Šiška); Henri MANCINI (1924 - 1994) - ROYAL BLUE (Královská modř); Gaspar KUMMER (1795 - 1870) - TRIO OP. 59 Adagio; Jack CASTEREDE (1922 - 2006) - FLÉTNY NA PRÁZDNINÁCH Andante espressivo, Allegretto con spirito; Otmar MÁCHA (1922 — 2006) - RICERCARI Allegretto graziozo, Allegro inbiloso, Adagio, Allegro vivace; W. A. MOZART - Předehra ke KOUZELNÉ FLÉTNĚ (1756 - 1791) (výročí 220 let od smrti).


June 10 (Friday), 5 PM, Marian Church, entry voluntary




ORBIS TRIO - classical music


Petra Vilánková - violin; Petr Malíšek - violoncello; Stanislav Gallin - piano




Ludwig van BEETHOVEN (1770 - 1827) Trio for piano, violin and violoncello no. 4 in B-major, op. 11 Gassenhauer Allegro con brio Adagio Thema con varíazíoni; Luboš SLUKA (1928) Toccata for piano solo (2011); Dmitrij ŠOSTAKOVIČ (1906 - 1975) Trio for violin, violoncello and piano no. 1 in c-minor, op. 8; Felix MENDELSSOHN-BARTHOLDY (1809 - 1847) piano trio no. 1 in d-minor, op. 49 Molto allegro ed agitato Andante con moto tranquillo Scherzo. Leggiero e vivace Finale. Allegro assai appasionato


June 17 (Saturday) 7.30 PM, Chateau Image Gallery, 60 Kč





L'ORFEO - Claudio Monteverdi
IL PIDLICCATO and Opočno School of Arts; Director: Kamil Remeš; recitation: Ladislav Peřina
More photos ...
June 25 (Tuesday), 9 PM, Marian Church, entry voluntary



FINAL CONCERT (ZÁVĚREČNÝ KONCERT) - Opočno School of Arts
June 28 (Tuesday), 6 PM, Marian Church, entry voluntary

June 15 (Tuesday) 8 PM, Kodymův národní dům, 60 Kč


Exhibitons
OPOČNO SCHOOL PUPILS EXHIBITION (VÝSTAVA ŽÁKŮ ZŠ OPOČNO) - art works of school pupils
Throughout June, in Kodymův národní dům, entry free


Sports
5. CHATEAU CUP (ZÁMECKÝ POHÁR) fishing competition
Prepared by Opočno Fishermen Group
June 18 (Saturday) - 19 (Sunday), 7am – 2:30pm by Opočno chateau ponds, entry voluntary


YOUNG FIREBRIGADES CUP (PUTOVNÍ POHÁR HASIČSKÉ MLÁDEŽE)
June 20 (Sunday) at 9 AM at the football pitch

OPOČNO TRIATHLON (OPOČENSKÝ TRIATLON) - Wednesday Cup
Organized by Dobruška TriClub, 0.5-26-5 km
Results, photos
June 29 (Wednesday), start at 5 PM (presentation 4 PM), by Broumar, start fee 50(20) Kč


PROMÍTÁNÍ - documents -
Presented by
June ? (?day) at ? PM in Kodymův národní dům, entry ?


Theatre plays


Off-road rides in the amphibious armoured fighting vehicle called BVP.
Access to the brickfield is marked from the road 298 from Opočno to Dobruška.
Operating on weekends from May to October from 9 AM to 5 PM.