!body text="#000000" bgcolor="#FFFFFF" link="#FF00FF" vlink="#6633CC" background="../pictures/back.gif" topmargin="0" leftmargin="10" face="Times New Roman">
Events in October 2008

MEETING WITH REGIONAL WRITERS within IV. ART MARATHON (UMĚLECKÝ MARATÓN)


prozaist Milan Dušek, poet Luboš Huml, fairy-tale writer Josef Lukášek


October 7 (Tuesday) at 6 PM in in town library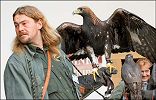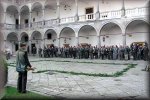 41-st Falconers' meeting
over 100 falconers, besides Czech also from Slovakia, Poland, Austria, Germany, the Netherlands, Belgium, and Great Britain.
October 9-11 (Thursday, Saturday) in surrounding forests
Every day at 7 PM festal ending on castle yard
Saturday at 10 AM public demonstrations of falconery hunting near Vodětín
... more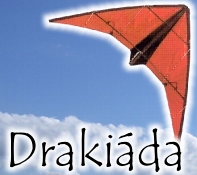 DRAKIÁDA sponsored by RADIO OK
Kite-flying festival
October 11 (Saturday) at 2 PM on Římanský kopec (near Semechnice)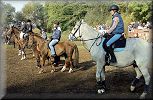 HUBERTOVA JÍZDA
horse-riding festival, refreshment, ...
October 18 (Saturday) around Čánka (Hovadovi) and evening in Opočno, hotel Holub
Concerts
PETR BAZALA - piano concert
October 3 (Friday) at 7 PM in Kodymův národní dům. 50 Kč.





MUSIQUETTE - historical music
artists from Opočno and Česká Skalice: Michaela Kučerová (recorders, zpěv); Martin Kučera (viola da gamba, perkussions); Terezie Netrestová (recorders, vocal); Alena Vlčková (recorders, vocal); Kamil Remeš (renaissance lute, vocal); Ladislav Horký (viola da gamba, recorders, vocal)



RECORDERS TRIO

October 4 (Saturday) at 5 PM, St. Joseph church, Šediviny in Orlické hory, entry fee voluntary.







ORLICKO-KLADSKÝ VARHANNÍ FESTIVAL - KLODSKO-ORLICKI FESTIVAL ORGANOWY - organ concert


František Vaníček


Andrea Gabrieli: Ricercare del XII tono
Carl von der Hoven: Tocata secundi Toni
Johann Jakob Froberger: Toccata a-minor
Dietrich Buxtehude: Toccata C-maior, BuxWV 137
Nikolaus Bruhns: Praeludium e-minor
Johann Sebastian Bach: Wenn wir in höchsten Nöten sein, BWV 641
Preludium & fuga G-maior, BWV 541
John Stanley: Voluntary VI
Petr Eben: Choralpartita "O Jesu, all mein Leben bist Du"
Nicolas Jacques Lemmens: Fanfare
October 5 (Sunday) at 4 PM in Marian Church, 60/40 Kč.

LENKA FILIPOVÁ - KYTAROVÝ RECITÁL
October 7 (Tuesday) at 7 PM in Kodymův národní dům.



VALANKA - brass music concert
October 12 (Sunday) at 5 PM in Kodymův národní dům. 70 Kč.


Theatre plays
in Kodymův národní dům, ticket reservation: Elektro Zlatka (tel. 494 667 651)

ZVÍŘÁTKA A LOUPEŽNÍCI (Animals and Robbers) - theatre ensemble Batole
D. Kuncová, B. Tymichová, R. Pavlíčková, T. Bónová
October 5 (Sunday), 3 PM, 10 Kč





Circus BEROUSEK - 2 hours show
clowns, artists, exotic animals and pets
October 17 5PM, 18 5PM, 19 2PM (Friday - Sunday), ?Kč, near the pond Broumar


POHÁDKA NARUBY (Reversed Fairy Tale) - puppet theatre for children from 3 years
Theatre ensemble Opočenský Kašpárek
October 19 (Sunday), 3 PM, in Kodymův národní dům, 20 Kč.



BABYBOX - comedy
Music, dance and singing by original theater Veselé skoky from Prague.
October 19 (Sunday), 7 PM, in Kodymův národní dům, 100 Kč.

Cinema

EGON BONDY - from film archives


Introduced by Tomáš Mazal


October 24 (Friday), 7 PM, in Čajovna za stromem, 80 Kč.

Exhibitons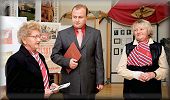 140th ANNIVERSARY OF SOKOL OPOCNO
Introduced by:
Vzdělavatelka Sokola Opočno Jarmila Gruntová
Starostka opočenského Sokola Hana Kovačová
October 20 (Monday), Information Center, entry free.
Dance
Dance Evenings Illuminated By Candles
Every Friday from 8 PM in hotel Holub