!body text="#000000" bgcolor="#FFFFFF" link="#FF00FF" vlink="#6633CC" background="../pictures/back.gif" topmargin="0" leftmargin="10" face="Times New Roman">
Events in September 2006


XIII. Psychoanalytic-Psychoterapeutic Symposium
Emotions In Psychotherapy and the Psychoanalyst
Psychiatrists meet in Opočno on regular medical symposia.
Prepared by Institute of Applied Psychoanalysis from Praha, phone 233 340 305
September 7.-9., entry fee 500/400 Kč



Votes of Miss World
September 30 (Saturday), Warsaw, Poland
Taťána Kuchařová from Opočno gets titles of:
- Vice-Miss Bikini 2006
- Miss World Northern Europe 2006
- Miss World 2006



Concerts
JAN POSPICHAL, JAN OSTRÝ, LUDĚK ŠABAKA - violin concert
Jan Pospichal - violin (Konzertmeister der Wiener Symphoniker) - absent due to injury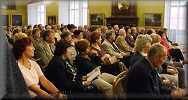 Jan Ostrý, professor of Plzeň and Praha Conservatory - flute; Luděk Šabaka, professor of Plzeň and Praha Conservatory - piano
Ludwig van Beethoven (1770-1827): Sonata in A major op. 47 (Kreutzer)
Luboš Sluka (1928): Andante con motto, Klec pro dva slavíky, Con animo
Sergej Prokofjev (1891-1953): Sonata in D minor op. 94
September 8 (Friday) at 7:00 PM in Castle Image Gallery. 60/30 Kč.

MATINÉ V ZÁMECKÉM LETOHRÁDKU - chansons
Markéta Wanke September 16 (Saturday) at 10:30 AM in Castle Villa.

KOMORNÍ SOUBOR ZÁKLADNÍ UMĚLECKÉ ŠKOLY V OPOČNĚ (Chamber Orchestra of Opočno School of Arts)
Conductor: Kamil Remeš September 17 (Sunday) at 2 PM in Castle Villa.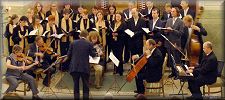 POLYPHONIC ENSEMBLE - Nové Město nad Metují
Director Lukáš Janko; Jiří Tymel - organ
Chamber Instrumentation (W. A. Mozart: Requiem d moll KV 626) September 20 (Friday) at 7:00 PM in Marian Church. 60/30 Kč.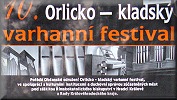 10. ORLICKO-KLADSKÝ VARHANNÍ FESTIVAL - KLODZKO-ORLICKI FESTIVAL ORGANOWY
ORGAN CONCERT
Michal Novenko - organ
Johann Pachelbel (1653-1706): Toccata in C, Ciaccona in d
Johann Sebastian Bach (1685-1750): Preludium & Fuga in C major
Wolfgang Amadeus Mozart (1756-1791): Allegro in C major




Jan Křtitel Kuchař (1751-1829): Fantasie in e minor, Pastorale in C major
Georgi Mušel (1919-1989): Toccata
Michal Novenko (*1962): Improvisations on given themes
September 30 (Saturday), 4 PM, 60/30 Kč, Marian Church






Exhibitons
POCTA FRANTIŠKU KUPKOVI (HOMMAGE TO FRANTIŠEK KUPKA) -
Ceremonial opening: September 15 (Friday) at ?? PM, introduced by ??, Musical Matinée - chansons by Markéta Wanke: September 16 (Saturday) at 10 AM




From September 16 till October 15, Tue-Sun: 10-12 AM and 1-5 PM, Kupka Exhibiton Hall in Castle Villa, 50 Kč Garden- and pot-plants, exotic plants - tropical and subtropical, bonsai
Garden Center Na Štefance (behind Hotel Praha)
Open daily 10 AM - 5 PM

Theatre plays

PODIVNÍ PŘÁTELÉ (Strange Friends) - poetry by Jaromír Typlt


Jaromír Typlt


September 16 (Saturday) at 5.33 PM in Galerie za stromem (Gallery Behind the Tree), Hradecká 198. Entry voluntary.

NĚKDO TO RÁD HORKÉ (Some Like It Hot) - comedy by Peter Stone


Theatre Ensemble Kolár from Police nad Metují, director: Jaroslav Souček; actors: Jerry, Dafné – Jiří Trnovský Joe, Josefína – Jiří Škop; Sugar – Květa Vídeňová; Sladká Sue – Ivana Richterová; Bienstock – Petr Scholz; Osgood, Kotníček Norton – Jan Antl; Psí Dečka – Filip Kovařík; Dude, poslíček – Ota Maryška


September 24 (Sunday) at 8 PM in Kodymův národní dům. 70/50 Kč.