Events in June 2006

Young firebrigades' competition, organized by SDH Opočno
June 11 (Sunday), start at 8 AM, football playground



Opočno triathlon - Wednesdays Cup, organized by Dobruška TriClub
Triathlon race
June 21 (Wednesday), start at 5 PM, Broumar, 0.5-26-5 km

Miroslav Klika Memorial (Memoriál Miroslava Kliky) - Football Tournament

June 17 (Saturday) at "TJ Spartak" playgrounds
10 football teams (Opočno, Voděrady, Přepychy, Rychnov n. Kn., Vamberk, Solnice, Doudleby n. O., ...) at the age cathegory 1995 - 1998.
9 AM - ceremonial opening, basic group
1 PM - ceremonial enouncement of results, awards
Exhibitons
Students of School of Arts exhibit their works
in the Schoool of Arts Opočno (open on school days) and in Kodymův národní dům.
Concerts
SLÁVA VORLOVÁ CHAMBER ORCHESTRA from Náchod
Director Jindřich Roubíček, solists: Jiří Kubeček - violin, - viola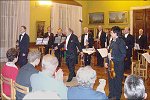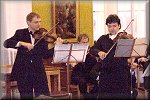 Jan Křtitel Vaňhal - Sinfonia in D
Wolfgang Amadeus Mozart - Concert in G major No. 3 for Violin and Orchestra
Wolfgang Amadeus Mozart - Milano Symphony in G
Leopold Koželuh - Sinfonia in B

June 2 (Friday) at 7:30 PM in the Castle Image Gallery, 60(30) Kč.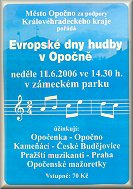 EUROPEAN MUSIC DAYS

Several Czech orchestras: (

Brass band Opočenka

from Opočno, Kameňáci from České Budějovice, Pražští muzikanti from Praha, Opočno Drum Majorettes

Castle garden near Summer villa, June 11 (Sunday), 4:30 PM, entry 70 Kč


ORGAN CONCERT - new organ installation
The organ was produced by the company Renovatum from Trutnov (Vít Mišoň). 24 Two manual keyboards and pedal; special transmission system making possible to use some pipes for more keyboards; 1354 pipes, of it wooden 124, metal 1078, tongue 142. The biggest pipe is 280 cm tall with volume 37 liters. The smallest pipe is 1.5 cm long.
Improving work is planned to continue till September 2006.
The older small instrument of Marian Church built in 2000 was considered not suitable for extension.




Martin Matyska - organ, Jan Přibil - trumpet

Giuseppe Torelli - Concerto in D for Trumpet and Organ

Francois Couperin - Offertoire

Johann Sebastian Bach - Preludium and Fuga in D Major

Georg Philipp Telemann - Concerto in D for Trompet and Organ

Leon Boelmann - Suite Gothiquue

Henry Purcell - Sonatina ind D for Trompet and Organ

Luboš Sluka

- Cesta ticha (Way of Silence)

Improvisation on St.Venceslas Choral

Georg Friedrich Händel - Rejoussance for Tumpet and Organ

Marian Church, June 16 (Friday), 7:30 PM, entry voluntary
Theatre plays
Garden- and pot-plants, exotic plants - tropical and subtropical, bonsai
Garden Center Na Štefance (behind Hotel Praha)
Open daily 10 AM - 5 PM