!body text="#000000" bgcolor="#FFFFFF" link="#FF00FF" vlink="#6633CC" background="../pictures/back.gif" topmargin="0" leftmargin="10" face="Times New Roman">
Events in September 2005
XII. Psychoanalytic-Psychoterapeutic Symposium
Emotions In Psychotherapy and the Psychoanalyst
Psychiatrists meet in Opočno on regular medical symposia.
Prepared by Institute of Applied Psychoanalysis from Praha, phone 233 340 305
September 8.-10., entry fee 500/400 Kč
Concerts
LUBOR MALÝ, VĚRA HÁJKOVÁ
Lubor Malý - viola; Věra Hájková - piano
September 9 (Friday) at 7:30 PM in Castle Image Gallery. 60/30 Kč.




ŠKAMPOVO KVARTETO
Pavel Fischer - violin, Jana Lukášková - violin, Radim Sedmidubský - viola, Lukáš Polák - violoncello
Wolfgang Amadeus Mozart (1756-1791): String Quartet M589
Iša Krejčí (1904-1968): 4th String Quartet in E major, opous 50 (1941)
Ludwig van Beethoven (1780-1827): String Quartet No. 59/1, "Rasumovsky"
September 30 (Friday) at 7:00 PM in Castle Image Gallery. 60/30 Kč.
Exhibitons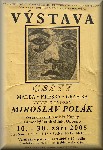 Miroslav Polák - graphics
Ceremonial opening: September 9 at 5 PM, introduced by RNDr. Ilja Trebichavský, CSc.
September 10-30, Tue-Sun: 2-4 PM, Sat-Sun also 10-12 AM, Kupka Exhibiton Hall in Castle Villa, 20 Kč Garden- and pot-plants, exotic plants - tropical and subtropical, bonsai
Garden Center Na Štefance (behind Hotel Praha)
Open daily 10 AM - 5 PM

Theatre plays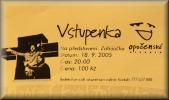 ZABÍJAČKA (The Pick-sticking) - comedy by Antonín Procházka
Commedia from Poprad
September 18 (Sunday) at 8 PM in Kodymův národní dům. 100 Kč.

PŘES PŘÍSNÝ ZÁKAZ DOTÝKÁ SE SNĚHU (In Spite Of Strict Prohibition He Touches The Snow) - comedy
Divadlo KODYM directed by Jiří Holý
September 29 (Thursday) at 7:30 PM in Kodymův národní dům. 70 Kč.